5 reasons why hiring tech talent in December is the key to a great new year
December is traditionally a 'go-slow' month for hiring.
When everyone is winding down for the year, your workload significantly slows. But there are actually a number of reasons why you should amp up your tech talent recruitment efforts in December. Doing so might mean you secure yourself the crème of the tech candidate crop, and get the edge over your competitors.
Capitalise on those looking for a fresh start
It's no secret the demand for tech talent supersedes supply. Recent stats suggest Australia needs an extra 81,000 IT experts by 2022, but there are only 4,000 tech candidates entering the market annually.
In such a competitive field, you need to do all you can to grab great tech talent as soon as they hit the market. And hit the market they do, especially in December, as many tech professionals finish up projects and begin looking for new opportunities for the new year. If you're not actively recruiting in December, imagine the talent you might be missing.
Get a leg up on your competition
It's highly likely that many of your competitors only have one thing on their minds in December – their holidays. If you shift your focus to recruitments efforts – rather than hitting the snooze button like you probably want to – you'll have a chance to pick from a quality tech candidate pool before the January rush (when everyone else is scrambling for new staff for their projects).
Take full advantage of your downtime
As your work deadlines drop off, you'll have more time on your hands to devote to your talent search. Use it to thoroughly prepare your job offer, researching what makes your company unique and enticing.  Carefully hone your recruitment materials to reflect this and position yourself as the most attractive option.
During interviews, you can also take advantage of team and senior management downtime. Invite them to be a part of the process. It will surely impress applicants to have your big movers and shakers in the interview room.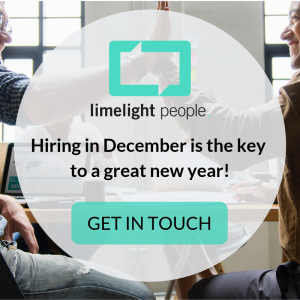 Fully utilise your budget spend
When you get to the end of the year, you might find yourself one of two fiscal situations:
Budget excess

– where you have to 'use it or lose it'

Increased spend

– where you need to spend

more

to ensure you get a bigger budget next year
In either situation, the answer is new staff. Being able to use some of these excess, or extra, budget dollars will also come in handy, especially in creating an impressive package to entice some quality tech talent to interview.
Be prepared for the new year onslaught
A new year brings new projects, new challenges and new pressures. Stocking up your tech team in December means you can hit January firing on all cylinders.
We hope these five reasons clearly illustrate the importance of hiring in December, especially when it means you could snag some quality staff before others even get the chance. If you need some assistance in crafting the right package to capture tech talent interest, speak to our team here at Limelight. We'd love to help you start your new year with a great new team.