Cast your mind back five years. It's 2017. Cloud computing is all the rage (I can store all of my work in the sky?). The Internet of Things has delivered cutting-edge technology like smart security cameras into our homes. University students are crowding in parks to capture Pokemon using an augmented reality app. Remote working is a new age concept that your CEO won't get on board with. 'User experience designer' – along with its ironic tee uniform – is the hottest agency job going around town.
Now, fast forward to FY23 where the landscape has completely shifted. Today, almost every part of our work and lives is integrated with technology. As reported in the Australian Government's Digital Economy Strategy, it's estimated that 250,000 new jobs will be created by digitalisation by 2025. To put that into perspective, Australia had more than 770,000 technology workers in 2019 – 6.8 per cent higher than 2018. This was 1.5 times the growth in the number of professional occupations over the same period.
In short, our workforce is changing rapidly. Digital and technology specialists, largely millennials and generation z, have a unique opportunity for fast career progression in the technology job market. In this blog, I take a look at three technology trends that are shaping the talent search.

1. Augmented reality and virtual reality
Augmented reality and virtual reality technologies enhance or replace real-life environments with simulated ones. Augmented reality (AR) enhances and changes your surroundings by adding digital elements to a live view, often by using the camera on a smartphone (think Google Maps).
Virtual reality (VR) uses software and hardware such as headsets to immerse users in a digital world. They get to explore and interact with a virtual universe, and in some cases, their physical environment. Thanks to the gaming industry, consumer uptake of VR headsets is increasing rapidly. Between Feb 2021 and 2022, active usage of VR headsets grew by almost 10 per cent. Now, at least 4.6 per cent of Australians aged between 16 and 64 are using these devices daily. And, Australian companies have responded. Today, these technologies are no longer limited to gaming. Businesses in a range of industries, particularly retail, automotive, healthcare and education, are shifting it to the mainstream, realising the potential to connect with new customers and offer unique, memorable interactions. Australian companies are also seeing the benefits of implementing VR and AR technology internally to improve employee communication, engagement and retention, especially in post-COVID remote working environments.
In 2020, PwC reported that AR and VR technology has added $46.4 billion to the global economy and is estimated to add $1.5 trillion to the GDP and create 23 million jobs by the year 2030.

2. Artificial intelligence
Artificial intelligence (AI) leverages computers and machines to mimic the problem-solving and decision-making capabilities of the human mind for increased automation, accuracy, speed and cost savings. In the last two years, economic uncertainty and pandemic-induced lockdowns sped up the adoption of automation and AI in Australia. Consequently, this technology is already delivering economy-wide benefits by lifting Australia's competitive capabilities, enabling industry wide transformation, and unlocking local jobs and economic growth. It's one of the reasons that the Australian Government unveiled a $124 million AI Action Plan and National Artificial Intelligence Centre late last year.
Heading into FY23, the adoption of AI and automation tools will keep picking up pace with wide-ranging implications for workflow and the future of work. This is especially true for organisations that are gathering data but not putting it to use, or for those looking to gain a competitive advantage through the ongoing COVID recovery.
When fed with the right data, AI has predictive capabilities that can identify and resolve issues before they occur. For example, a company could use this capability to help predict when staff might be thinking about leaving their company. With this intelligence, teams can proactively manage people and culture to ensure the best outcomes.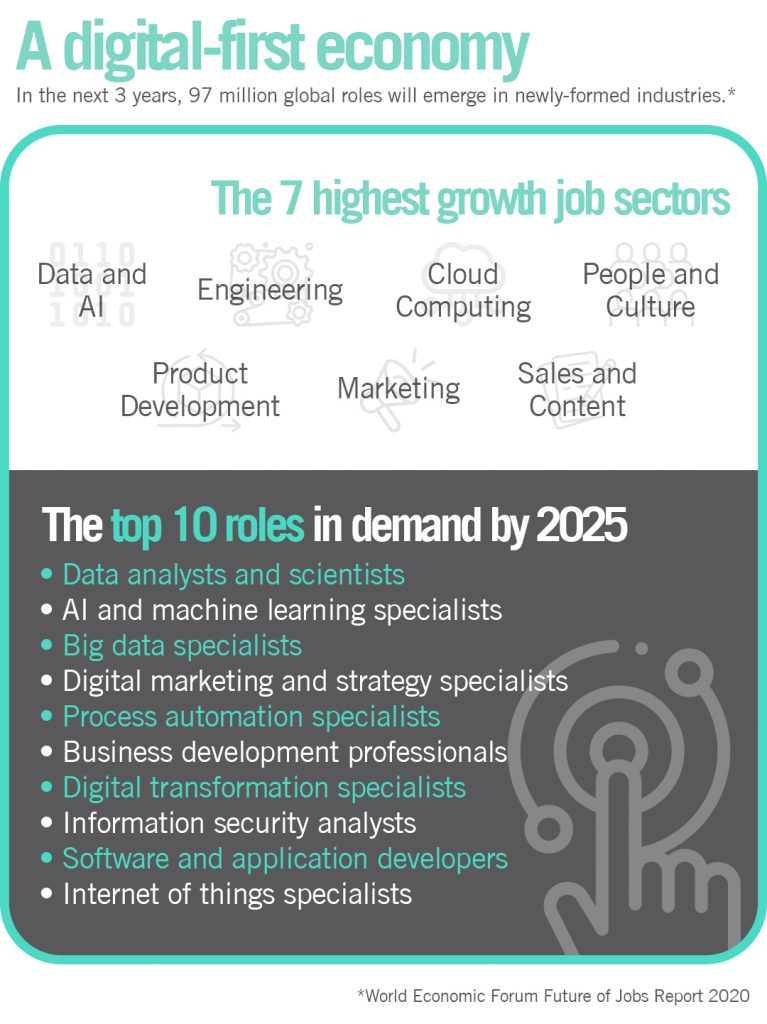 3. Cryptocurrency
Cryptocurrency, or 'crypto', is any form of currency that exists digitally or virtually and uses cryptography to secure transactions. One of the key features of cryptocurrencies is that it doesn't have a central issuing or regulating authority; it instead uses a decentralised system to record transactions and issue new units. In 2021, we saw cryptocurrencies achieve a new level of mainstream popularity. Large institutions, including the ANZ and Westpac in the banking sector, as well as multi-million dollar blockchain start-ups, proactively sought business and investment opportunities in cryptocurrency. This investment has created many new roles, with specific skills including Java, Python, machine learning, and AI coming in high on the prerequisite list. According to a 2022 Crypto & AI Jobs report, Australia now ranks fourth globally with Sydney, Melbourne and Brisbane being the top cities to gain employment opportunities in cryptocurrency.
While cryptocurrency, and the blockchain technology that underpins it, is one of the most exciting technological developments of our time, it's easy to overlook its vast potential. Whether it be regulators providing the appropriate framework for the industry to grow, or more investors coming on board, FY23 will see unprecedented growth for this sector in Australia and abroad.
Want to know where you could take your career? Talk to us.
My team at Limelight People are currently recruiting for several technology roles in the AR/VR sector. If you're ready to make your move and learn about what's on offer, please email me at jobs@limelightpeople.com.au for a confidential discussion.